When visiting Florence you can experience many Tuscan Wine Tours to go to some of the best wine growing regions in Italy.
I have personally picked up every winery to guarantee a true wine experience and to taste only high-quality wines.
You will join a small-group guided tour, maximum 8 people, to have a more intimate experience. Then every winery is equipped to ship wine back to your home at a very reasonable cost.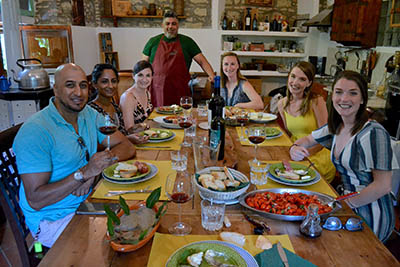 Tuscany produces many fine wines, especially red, and the quality of its production has made it known and appreciated in the world. The entire region boasts many different production areas between IGT, DOCG, and more than thirty DOCs, for a total of 14 different institutional wine itineraries.
The entire region is hilly and has a mild climate thanks to the stretch of coast that overlooks the Ligurian Sea and the Tyrrhenian Sea.
In the provinces of Florence and Siena some wines are known, some of them quite ancient: the famous Chianti Classico, the well-known Brunello di Montalcino, the Vino Nobile di Montepulciano.
In the territories of Livorno and Grosseto, the milder climate thanks to the sea, are produced among others the Bolgheri Sassicaia, Montecucco, and Ansonica.
Prato and its province are famous for the Vin Santo and the small DOCG of Carmignano.
Among the white wines, we remember the Vernaccia di San Gimignano, produced in a small area of Tuscany between Siena, Pisa, and Florence.