Truffle Hunting & Wine Tasting
Enjoy the charming Tuscan countryside and the haunting beauty of the Tuscan forests.
Tuscan Truffle in Tuscany is an excelent experience to taste one of the best natural pruduct in the world.
While Tuscany is often associated with exceptional wines, it is especially renowned for its truffles. It may come as a surprise to some that San Miniato, a small town in Tuscany, supplies nearly 80% of the world's precious white truffles.
You will take part in a once-in-a-lifetime experience and search for truffles with a truffle-hunting dog through the woods of Tuscany. Follow the dog hurriedly through the forest as he sniffs about and experience the surge of excitement as he starts digging for this edible treasure (white truffles go for nearly $15,000 per kg).
After lunch, will visit a cellar into the region of Chianti. Here you will have the opportunity to experience what is arguably Italy's most renowned wine, Chianti. Your guide will teach you everything you need to know about the process of winemaking and the techniques involved in attaining a better appreciation of the wine through the tasting.
Price 180 eur
per person
Wine tour briefly
shared tour
180 € per person
Monday, Tuesday, Wednesday, Thursday, Friday and Saturday, All year round
from 10:00 a.m. to 5:00 p.m.
English
including lunch and more
San Miniato
departure from Florence
Availability and Price
Space is limited, so we suggest booking in advance. Minimum of 2 participants are needed in order for the tour to be run.

Monday, Tuesday, Wednesday, Thursday, Friday and Saturday, All year round
schedule, detail and photo Truffle Hunting & Wine Tasting wine tour
SCHEDULE
10:00 a.m. Departure from Florence for San Miniato.
11:00 a.m. Truffle hunting in the woods with licensed truffle hunters and their trusty Lagotto dogs.
12:30 p.m. Lunch with truffle-based appetizer and first course.
2:00 p.m. Stop at San Miniato for some free sightseeing; optional stop to purchase truffle products.
2:30 p.m. Wine tasting at a Chianti winery (Chianti DOCG and Super Tuscan IGT)
4:30 p.m. Return to Florence by approx. 5:00 p.m.
Price 180 Eur per person. INCLUSIONS
Shared transportation in a comfortable air-conditioned minivan
Professional English-speaking guide
Multi-course traditional menu with fresh truffles and wine
Truffle hunting in woods with professional truffle hunters and their Lagotto dogs
Entrance fee to the winery
Wine and extra virgin olive oil tastings
Maximum of 8 people per guide
not included
Truffles found during hunting
Hotel pick-up and drop-off
Tips and gratuities
Meeting Point
Meeting Point in Florence at Piazza Cavalleggeri, next to the Biblioteca Nazionale "National Library".
map Truffle Hunting & Wine Tasting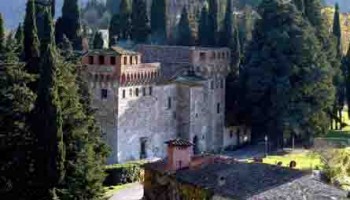 Combining exquisite wines with an unforgettable medieval setting - lunch - wine tasting class.
from 9:30 a.m. to 5:00 p.m.
Chianti Rufina
Monday, Tuesday, Wednesday, Thursday, Friday and Saturday, from March until December

pax


€ 170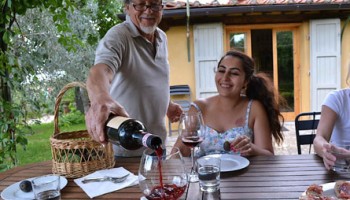 Experience the magic of Chianti Classico, visit 3 wineries - lunch at the winery - wine tasting class.
from 9:30 a.m. to 5:00 p.m.
Chianti Classico
Monday, Tuesday, Wednesday, Thursday, Friday and Saturday, From February until December

pax


€ 170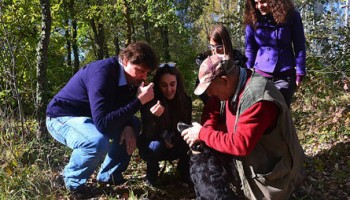 Combining White & Black Truffles with a delicious lunch in a farm of San Miniato
from 10:00 a.m. to 4:00 p.m.
San Miniato
Monday, Tuesday, Wednesday, Thursday, Friday and Saturday, From October until December

pax


€ 180