The territory of the Chianti Classico extends between the cities of Siena and Florence and is shared between the provinces of the two municipalities. The area is approximately 71,800 hectares (177,500 acres) and includes the entire territory of the municipalities of Castellina in Chianti, Gaiole in Chianti, Greve in Chianti and Radda in Chianti and part of those of Barberino Val d'Elsa, Castelnuovo Berardenga, Poggibonsi, San Casciano Val di Pesa, and Tavarnelle Val di Pesa.
The Chianti Wine Regions
In the common language, there has long been confusion between two different DOCGs: Chianti Classico and Chianti. If, in fact, there are two wines called Chianti Classico and Chianti, there is just a historical region called Chianti.
Among the consumer, but also in insiders, the boundary between these two areas is lost and the result is that too often the suffix Classic is left out referring to a Chianti Classico.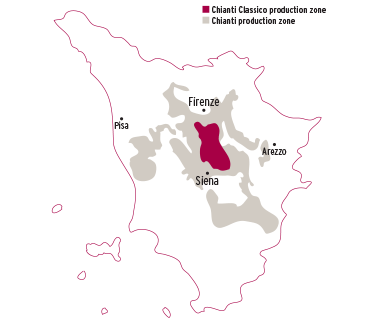 In fact, that suffix is really important, because it distinguishes Chianti Classico wine from Chianti wine. They are two distinct and separate DOCGs, with two different sets of production regulations, production zones, and consortiums for the protection of the product.
At this link, you can book a Private Chianti Classico wine tour
History
Cosimo III, Grand Duke of Tuscany, officially delimits the area of production of Chianti in 1716. This is an area between the cities of Florence and Siena where Chianti had always been produced.
At the beginning of the twentieth century, when the fame of Chianti wine grew from year to year and its production territory was no longer able to satisfy a growing national and foreign demand, the wine began to be produced outside the Chianti area bounded in 1716, which was also called "Chianti" or "Chianti-style" wine.
Only in 1924, to defend their wines, the producers of the original Chianti area founded the Consortium for the protection of the typical wine of Chianti and its brand of origin. The brand immediately chosen was the Gallo Nero (Black Rooster), the historical symbol of the Military League of Chianti and depicted by the famous painter Giorgio Vasari on the ceiling of the Salone dei Cinquecento of Palazzo Vecchio in Florence.
In 1932 a specific ministerial decree was issued to distinguish the Chianti produced in its area of origin by adding the adjective "Classic". Since then, the Chianti wine produced outside the geographical area has been called "Chianti" while the Chianti Classico is the wine produced in the original production area, the one known since 1716 as "Chianti".