Nobile di Montepulciano
Experience a wine tradition that is nearly 700 years in the making.
This tour stands on its own simply because the charming medieval town of Montepulciano truly is a must-see destination; the fact that you get to enjoy first-rate wine is just an added bonus! Nobile di Montepulcianois primarily made up of the Sangiovese grape along with a few other local varieties that give it its medium body and firm tannins. Coupled with a reddish brown color and the characteristic smell of sweet violets, this wine is an essential for all wine lovers.
Your journey will start from the proud city of Florence through the gorgeous countrysidetowards its historic rival, Siena. After arriving in the small town of Montepulciano, you will be given a personal tour of the first winery and have ample opportunity to taste the wines. Then, you will stroll along the medieval streets of Montepulciano and enjoy a memorable Tuscan lunch at a local restaurant. After another drive through the beautiful countryside, you will visit the second winery where you will have the opportunity to learn the viticulture and discover the painstaking production process in addition to tasting the wine.
All in all, if you want to get a taste of Italian cuisine and wine coupled with a medieval hamlet setting, look no further.
Price from 200 eur
per person
private wine tour
Wine tour briefly
private tour
200 per person
Monday, Tuesday, Wednesday, Thursday, Friday and Saturday, All year round
from 9:00 a.m. to 6:00 p.m.
English
including lunch and more
Montepulciano
departure from Florence
PRICE TABLE
Availability and Price
Space is limited, so we suggest booking in advance. Minimum of 2 participants are needed in order for the tour to be run.

Monday, Tuesday, Wednesday, Thursday, Friday and Saturday, All year round
schedule, detail and photo Nobile di Montepulciano wine tour
SCHEDULE
09.15 a.m. Departure from Florence
10.45 a.m. Arrival at Montepulciano and visit the first winery, where you can have a look to the vineyards and the cellar, finally wine tasting.
12.45 p.m. Walking through medival street of Montepulciano. After a sightseeing we'll be reaching the restaurant to have a light lunch.
02.30 p.m. Driving along the hills where you can see the different type of vineyards.
03.00 p.m. Visit to the second winery where you can meet the wine grower who will show you the techniques of viticulture and explain the wine making process.
04.30 p.m. Departure to be back in Florence by 6:00 p.m.. Have a nice trip!
Price 200 Eur per person. INCLUSIONS
Transportation from Florence or Siena
English speaking tour/driver for the day
2 Winery Visits and Wine Tastings
Olive Oil Tasting
Stop at the old Montepulciano.
Tuscan Lunch at Trattoria
All Local Taxes
not included
Meeting Point
pick-up drop-off Florence
map Nobile di Montepulciano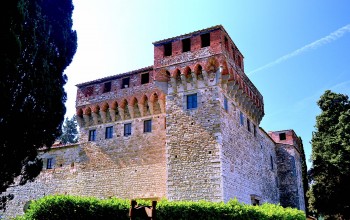 one of wineries we visit is on a much smaller scale and is often family owned
from 9:30 a.m. to 5:00 p.m.
Chianti Rufina
Monday, Tuesday, Wednesday, Thursday, Friday and Saturday, All Year

pax


€ 170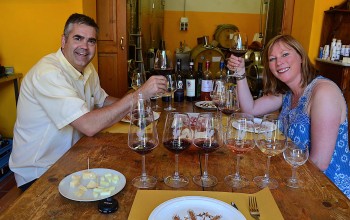 A great experience to enjoy Chianti Classico DOCG wine
from 9:30 a.m. to 5:00 p.m.
Chianti Classico
Monday, Tuesday, Wednesday, Thursday and Friday, All Year

pax


€ 160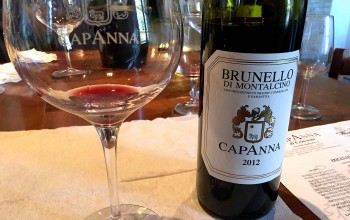 Fans of full-bodied wines, look no further.
from 9:00 a.m. to 6:30 p.m.
Montalcino
Monday, Tuesday, Wednesday, Thursday, Friday and Saturday, All year round

pax


€ 200