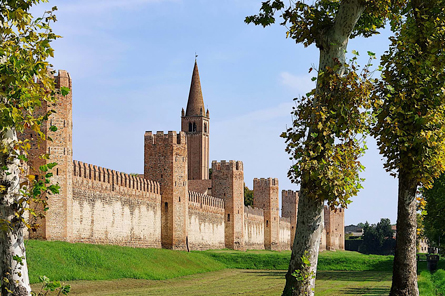 This famous wine growing region is only 1 hrs drive from the city of Venice.
We suggest a guided tour in a small group with other wine enthusiasts (groups are no more than 8 people). You will be escorted on a full day excursion to the Euganei Hills region, a volcanic area that has been famous for its wine since the ancient Roman Empire, and that was the private "vineyard" of the "Serenissima Republic of Venice".
Your scenic drive will take you through the vineyards, in the hills that are surrounded by numerous Venetian villas. During this excursion, you will have wine tastings in two great cantinas where they typically produce Merlot, Cabernet, and Chardonnay.
The lunch is in Montagnana a beautiful medieval walled town, stop for lunch. Here you will have the chance to experience the original Venetian food.
Montagnana is also known for the "Prosciutto Dolce di Montagnana DOP" (ham), the tour is also a chance to sample a sweet prosciutto handcraft product.
Availability and Price
Space is limited, so we suggest booking in advance. Minimum of 2 participants are needed in order for the tour to be run.

Monday, Wednesday and Friday, all year round